Pneumatic Actuator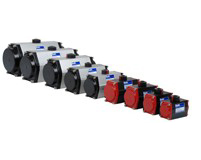 Designing Features of Hawks 10 Series Pneumatic Actuator

Extruded aluminum ASTM6005 body with both internal and external corrosion protection having honed cylinder surface for longer life and low coefficient of friction.
Dual piston rack and pinion design for compact construction, symmetric mounting position, high-cycle life and fast operation, reverse rotation can be accomplished in the field by simply inverting the pistons.
Multiple bearings and guides on racks and pistons, low friction, high cycle life and prevent shaft blowout.
Modular preloaded spring cartridge design, with coated spring for simple versatile range, greater safely and corrosion resistance, longer cycle life.
Fully machined teeth on piston and pinion for accurate low backlash rack and pinion engagement, maximum efficiency.
Carbon steel with nickel plated or stainless steel fasteners for long term corrosion resistance.
Full conformance to the latest specifications: ISO5211, DIN 3337 and Namur or product interchangeability and easy mounting of solenoids, limit switches and other accessories.