Handwheel Gearbox Operator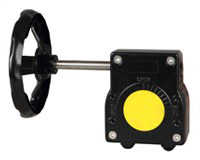 Our 20-serise Aluminum valve handwheel gearbox,90 quarter turn drive device is suitable for butterfly valve,ball valve and plug valve and so on.The aluminum alloy material body after static electricity powder coating has an excellent appearance,strong adhesion/mechanical property and anti-corrosion/wear resistance.

-ISO 5211 direct mount patterns.
-Filled with special lubricant before leaving the factory.
-Weatherproof is IP65.
-The output torque range:180-1310NM.
- 5 degree angle adjusting.