Gearbox Declutch Operator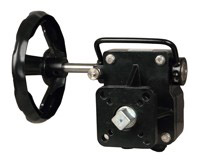 The Aluminum Declutch Gearbox is specially designed for butterfly valves,ball valves, and plug valves,etc. together with pneumatic actuators.This device allows manual operation during installing, systemtesting if when air resource is not loaded. It can be mounted directly on most of the popular rack & pinion style pneumatic actuators in the market. Of course, it does not need a distance plate installed between the pneumatic actuator and the declutch gearbox.

- A simple and compact design, light-weight device.
- ISO 5211 connecting standard
- Easy to switch from manual drive to pneumatic drive by using the wrench retainer.
- Internal parts lubricated with special lubricant when the device is assembled.
- Weatherproof is IP65
- GD series products output torque range varies from 180 to 5500NM
- 5 degree angle adjusting
Guidings for model choosing and device operating
1. The device should be correctly installed. The worm gear shaft hole should be concentric with the valve shaft. And then the screws must be tighten up.
2. The rating torque can be output when the load applied on handwheel meets the requirement. In order not to demange the device, the user must not operate the device by changing the handwheel diameter and using resultant force that exceeds the required input value.