FM-series Handwheel Gearbox Operator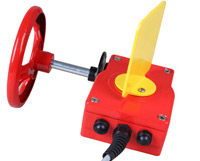 Our FM Series hand wheel gearbox is special designed for firefighting etc. This series gearbox can control 90 degree rotary valves, such as butterfly valve, ball valve and plug valve and so on. The aluminum alloy material body after static electricity powder coating has an excellent appearance, strong adhesion/mechanical property and anticorrosion/wear resistance.
- The yellow marked flag easy to look at in long distance - Prepared for padlock kit easy for lock and avoid illegal operation - Signal sensing line function is equivalent to a limit switch and a gearbox combination.

- All aluminum shell light and beautiful
- Filled with special lubricant before leaving the factory
- Powder coating in surface of strong anti-corrosion/wear resistance
- ISO 5211 direct mount patterns
- Weatherproof is IP 65
- Build in mechanical stops