High pressure Ball check valve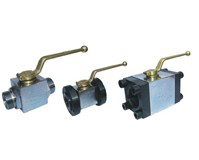 High pressure ball valve core has the advantages of compact structure, reliable performance, the appearance of fine. The forged steel valve body, sealing ring for self lubrication engineering plastic, high pressure resistance, good sealing performance, flexible and comfortable handle move. Ball valve core and the valve body inner and outer surfaces
are anti-corrosion treatment, is suitable for various oil and water-based emulsion medium of hydraulic system. With an external thread, internal thread, flange type and plate type connection.